Niedrigere Realeinkommen und mehr Armut als 2013
Die gesamtwirtschaftliche Produktion Russlands hat sich zwar vom Rückschlag der Rezession im Jahr 2015 um 2,3 Prozent inzwischen erholt. 2018 war das Bruttoinlandsprodukt 1,9 Prozent höher als 2014. Die privaten Haushalte haben von dieser Erholung der Wirtschaft im Durchschnitt bisher aber kaum profitiert. Das zeigt die Entwicklung der Einkommen und der Zahl der Armen.
BOFIT, das Forschungsinstitut der finnischen Zentralbank, veröffentlichte am Freitag die folgende Abbildung zur langfristigen Entwicklung der real verfügbaren Einkommen (blaue Linie) und der Entwicklung der Zahl der Armen mit einem Einkommen unterhalb des offiziellen Subsistenzminimums (rote Linie).
Real disposable incomes of Russians and number of people living below the official subsistence minimum (poverty level)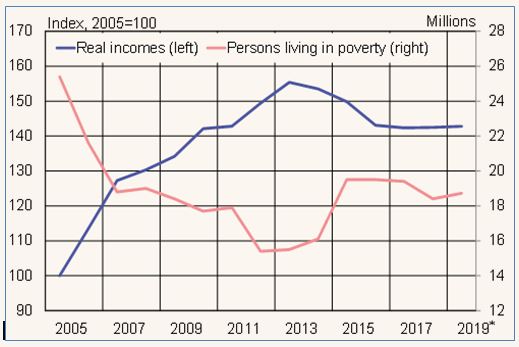 Real verfügbare Einkommen seit 2013 um rund acht Prozent gesunken
Die BOFIT-Abbildung zeigt, dass die real verfügbaren Einkommen von 2005 bis 2013 sehr stark um rund 55 Prozent stiegen. Dann sanken sie in den nächsten 4 Jahren bis 2017 um 8,4 Prozent.
2018 stagnierten sie annähernd auf dem gedrückten Niveau (+ 0,1 Prozent). Auch in den ersten neun Monaten 2019 waren sie nach den jüngsten Schätzungen des Statistikamtes Rosstat nur 0,2 Prozent höher als im Vorjahr. Im dritten Quartal 2019 stiegen die Einkommen laut Rosstat gegenüber dem dritten Quartal 2018 jedoch um 3,0 Prozent.
Seit Anfang 2019 steigt das Realeinkommen saisonbereinigt
Detaillierter als BOFIT stellt das "Zentrum für makroökonomische Analysen und kurzfristige Prognosen, CMASF" die Entwicklung der real verfügbaren Einkommen in seinem September-Bericht zu "Trends der russischen Wirtschaft" in einer Abbildung dar. Sie zeigt die saisonbereinigte vierteljährliche Entwicklung der Realeinkommen seit 2013.
Real verfügbares Einkommen der Bevölkerung
(Quartalswerte; durchschnittlicher Quartalswert 2013=100)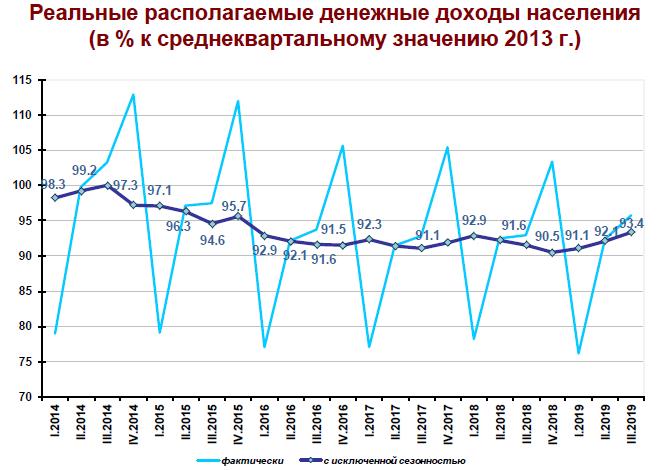 Bis zum vierten Quartal 2016 sanken die saisonbereinigten Einkommen gegenüber 2013 um 8,5 Prozent, bis zum vierten Quartal 2018 um 9,5 Prozent.
In den ersten drei Quartalen 2019 stieg das real verfügbare Einkommen saisonbereinigt. Im dritten Quartal 2019 war es 3,2 Prozent höher als im vierten Quartal 2018. Damit war es aber noch 6,6 Prozent niedriger als 2013.
Stabilere Preise stützen Erholung der Realeinkommen
Zum Rückgang der Realeinkommen seit 2014 trug die zeitweilig stark beschleunigte Inflation bei. So stiegen die Verbraucherpreise nach der Freigabe des Rubel-Kurses im Jahresdurchschnitt 2015 um 15,5 Prozent und 2016 um 7,0 Prozent.
2018 sank die Inflationsrate auf 2,9 Prozent. In diesem Jahr erwartet die Zentralbank nach der Mehrwertsteuererhöhung am Jahresanfang im Jahresdurchschnitt einen Anstieg der Verbraucherpreise um 4,5 bis 4,6 Prozent. Im Dezember 2019 soll die Inflationsrate auf 3,2 bis 3,7 Prozent sinken. Im nächsten Jahr erwartet die Zentralbank im Jahresdurchschnitt nur noch einen Preisanstieg um 3,1 bis 3,5 Prozent. Das teilte die Zentralbank in einer Aktualisierung ihrer mittelfristigen Prognose mit, nachdem sie am Freitag den Leitzins von 7,0 auf 6,5 Prozent senkte.
Zahl der Armen wieder so hoch wie 2009
Der starke wirtschaftliche Aufschwung bis 2013 wird auch in der Entwicklung der Zahl der Bürger mit einem Einkommen unterhalb der Armutsgrenze deutlich (siehe rote Linie in der BOFIT-Abbildung). Sie hat sich laut Rosstat von 2005 bis 2012 von 25,4 Millionen auf 15,4 Millionen um fast 40 Prozent verringert (Zu Beginn der Präsidentschaft Putins im Jahr 2000 hatte die Zahl der "Armen" sogar noch 42,3 Millionen betragen; das entsprach 29 Prozent der Bevölkerung).
Im Verlauf der letzten Rezession erhöhte sich die Zahl der "Armen" um gut ein Viertel auf 19,5 Millionen im Jahr 2015. Im letzten Jahr war sie mit 18,4 Millionen noch so hoch wie neun Jahre zuvor im Jahr 2009.
Nach Angaben von Rosstat hat sich die "Armutsquote", der Anteil der Armen an der gesamten Bevölkerung, im Rezessionsjahr 2015 auf 13,3 Prozent erhöht. Im letzen Jahr sank sie zwar wieder auf 12,6 Prozent. Damit war sie aber noch deutlich höher als 2012 (10,7 Prozent).
Im ersten Halbjahr 2019 war die Armutsquote laut ersten Rosstat-Berechnungen mit 13,5 Prozent etwas höher als im ersten Halbjahr 2018 (13,3 Prozent). Als "Subsistenzminimum" geht Rosstat in diesem Jahr dabei von einem Einkommen in Höhe von rund 11.000 Rubel (rund 160 Euro) aus.
^*^
Quellen und Lesetipps:
Realeinkommen im dritten Quartal 2019 laut Rosstat um 3,0 Prozent gestiegen
Armut und Reichtum in Russland
Zentralbank: Leitzinssenkung am 25.10.2019;
Nabiullina-Interview am 18.10.2019; Gespräch Yudaeva/Cecchetti über Zentralbankpolitik
Zentralbank:Monatsbericht Wirtschaft September 2019
Preisentwicklung September 2019
Periodisch erscheinende Konjunkturberichte (meist monatlich, vierteljährlich)
Sonstige Veröffentlichungen zu Konjunktur und Wirtschaftspolitik in Russland:
Ostexperte.de-Artikel zu Konjunktur und Wirtschaftspolitik in Russland von Klaus Dormann seit Anfang Oktober 2019: